guess what's up?
yep - it's Roald Dahl's birthday today!
(for the next seven minutes, anyway... i know how to leave things to the last minute :P )
unfortunately, my mom and i only discovered this at about 3pm, so we couldn't do anything ridiculously fun and Dahl-ish with her school kids... but i thought i still had to do something in honour of the man who contributed enormously to my ridiculously great childhood. i mean, we're talking about the inventor of 'Charlie and the Chocolate Factory', 'Matilda', 'The BFG', 'The Twits', 'Danny the Champion of the World', 'James and the Giant Peach', 'The Witches', 'George's Marvellous Medicine', 'Fantastic Mr Fox'... the list honestly goes on and on.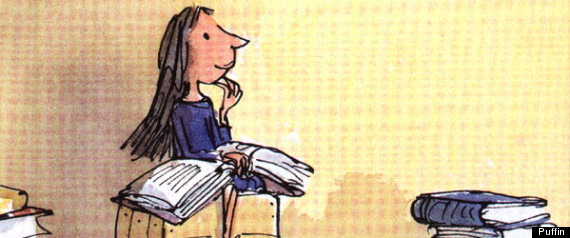 i mean, let's be real now - which little kid who's read Matilda doesn't want to have her awesome powers and spunkiness? that's right - NO ONE. because Matilda is one boss of a character.
and then we get Sophie and her BFF the BFG, both of whom are brilliant...
and, of course, Charlie Bucket - humble and kind-hearted and meagre and heroic...
...George, who rocks the party with his delightful medicine...
and Danny, who is rightfully named the world's champion (although his dad arguably ties in that place - what a great guy :) ).
and those are only a very few of my favourites!
i hope one day to be as excellent a story-teller as Mr Dahl, but i don't think it'll ever happen. he had this unique ability to capture a kid's experience, spot-on, and relate it back to the reader.
so all i can say is
THANKS, MR DAHL!
...and happy birthday :)