everyone knows the song, right? Edward Sharpe and the Magnetic Zeros?
HOME IS WHEREVER I'M WITH YOU! LA LA LA LA TAKE ME HOOOOOOME.... MOTHER, I'M COMIN' HOOOOOME!!!
trust me to blog about my holiday right as it ends... as i mentioned a couple posts before, i'm on my September vac (which is one whole week long!) and it's been great. i decided to blog about the past few days because Chris is already back in Grahamstown for a Philosophy colloquium (he got back on Thursday - as i type, he should be in a philosophical seminar of some sort :) )... which got me thinking about going back - i leave tomorrow morning - and, of course, of being back home in the first place.
i can't even lie - being home has been SUUUUPER awesome. i basically left a day early (on Friday instead of Saturday) because there weren't any flights left on Saturday when we booked - yikes! it was the weirdest experience ever - i am NOT used to leaving early. i stayed up the night before, packing my room up and finishing a final Journ assignment (yup, both of these things literally took up the whole night) and then my darlin' drove me down to Union - after letting me leave random left-over junk and my stuffed penguin in his room, like the Superman he is - and we waited there for my bus!
i had a year-long wait (actually four hours, but close enough) at the airport when i got there, so i sat at Wimpy and had breakfast and ridiculously expensive orange juice. i love PE Airport at the end of term - you just see Rhodes students EVERYWHERE :D i ran into my beautiful friend Elna and my bandmate Clarke and another friend of mine, Warren... yeah, it was great. anyway, after 4 hours at the airport, i snuck an extra kilo of hand-luggage onto the plane and flew home to beautiful KZN! aaaah green hills. aaaah Mom. aaaah FROYO.
(i edited this photo on purpose because the Wakaberry stuff is so pretty and my face was so splotchy-coloured. and cause i was feeling arty and things. k.)
ohaai Wakaberry. you are delightful. and expensive. expensively delightful. in hindsight, i didn't need to put SOOOO much junk on mine (which is obviously the one on the left) because it made it weigh a TON, but it was delicious and worth it (and my mom paid - yessa!).
we then went home - to Lil' Hometown - where i got to see my dad! woot! and then we rushed off to our local annual art exhibition's opening, which my parents help organise and set up and whatnot (my dad exhibits stuff every year, cause he's talented like that). my favourite part of it was obviously the finger food (you know me and food, doh) and the kids' art, which was hilarious and beautiful. check out the March of the Flamingoes...
my favourite is the little girl-flamingo on the far left of this picture, with her rainbow socks. she's got style, y'all.
i basically collapsed after the exhibition... because, you know, i'd had 2 hours of sleep the night before, and 3 hours of sleep the night before THAT. so, um, i was a bit tired.
theeeeen, on Saturday, we woke up in the morning and went to THE MARKET OF AWESOMENESS! ...also known as Made@Home. this is a little market run by a wonderful woman in our community, who is also basically a bakery goddess. it was started as a way to help her daughter out, made up of a community market - with baked goods and fresh produce and really cool homemade stuff made by people in our town - and a tea garden where THIS type of thing is served. srsly.
insane, right? on Saturday night, my mom's school had a fundraiser evening, where my dad showed slides of his incredible game reserve photos, a teacher from my old high school sang like a boss and everyone ate. (i waitressed!) it sounds weird the way i've described it, but trust me, it was REALLY cool :D favourite part = set up, when i got to babysit the most beautiful little girl in the world... and now i'm just rambling. sigh.
the rest of my week has been a little less eventful but just as awesome! i've been waking up early every morning and going in to work with my mom - which is also a LOT cooler than it initially sounds :P
my mom's office door, as decorated by yours truly at the age of 6. legit.
my mom teaches 10 Grade 4 kids who are basically the coolest cats. they make me laugh so much. while there, i hung out with them, read two set-work books for English (Mrs Dalloway by Virginia Woolf and Disgrace by J.M. Coetzee) and did some watercolour paintings for Picture Pot (which i'll blog about in the next couple days - until then i'll leave you in suspense ;) ).
(the first two of my four watercolours... they all involve words, cause i can't shut up :P )
my mom and i also painted clothespegs for funzies, and they look like so:
it hailed on Thursday! the hailstones were massive, as you can see by the one i am holding in this photo:
yep, sarcasm. i'm charming, aren't i?
otherwise, i've just been hanging out, learning a song on the piano, reading the paper, doing crossword puzzles and sudokus, playing Scrabble and cribbage with my mom, watching The Avengers (again!) and loving it (again!), watching The Hunger Games (finally) and loving it, too (whew! so glad it was so awesome), watching rugby... (which i'm actually going to go do now - c'mon, Sharks!)
Made@Home happened again this morning, and THIS was what occurred, just to give you an idea of its true awesomeness.
the eats-and-drinks board = love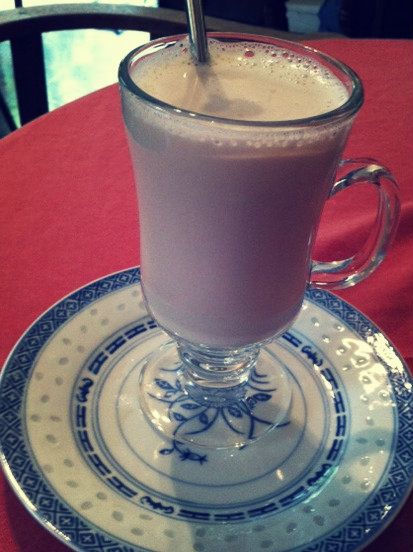 chai tea is a winner, yo!
my mom and i always go halfsies on the food there, because there's always just too much choice. this week, we shared the apfel strudel and a pizza muffin: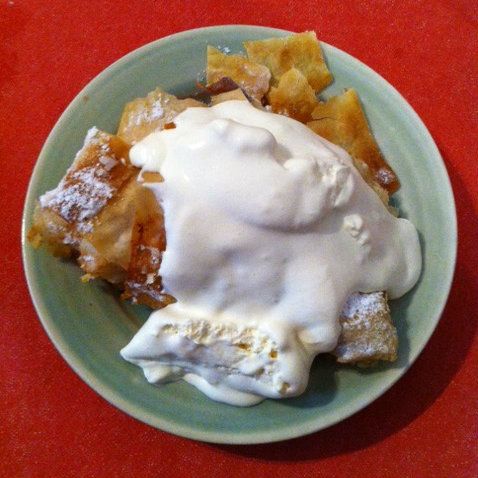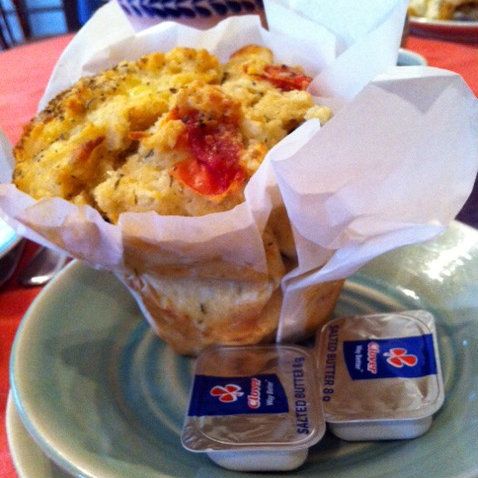 OM NOM NOM NOM!
so seriously, that's what my week's been like. and tomorrow i'll leave home at 6AM to catch my flight back to Grahamstown... so cheers, Lil' Hometown, and see you in 10 weeks!