welcome, friends, to the second edition of my birthday posts :)
in case you missed the
first edition
, last Friday - the 21st - was my birthday! yay for birthdays :) after all the morning happiness that went down, i had a fairly normal time. we went to my mom's school for the day, and i got to hang out with some of the coolest kids on the planet. we ate cupcakes with the Grade 3s - my mom's class - and i got a couple super-cute cards from them.
after school, i invited a whole bunch of friends over for an informal tea-and-cake fun time. i decided a couple days before my birthday that i ought to have SOME kind of celebration, and since i hadn't planned a party, i thought a tea party would do just as well. here follows a few photos of the tea celebrations - unfortunately, i didn't get a lot of shots of my friends that came over, but this'll do!
first off, how cool are these cupcakes? my sister can claim full responsibility for their awesomeness - she baked them and decorated them. i only stuck the candles into them. but hey.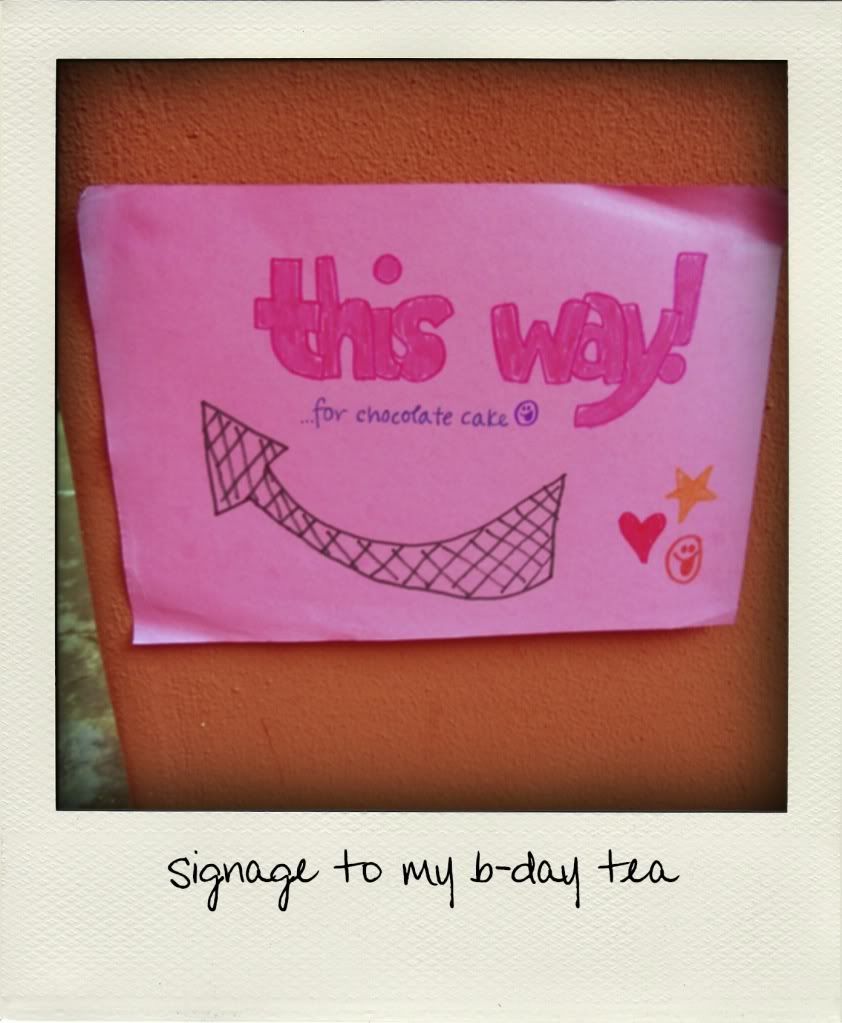 i was a little concerned that some peeps who hadn't been over to my house in a while might try to come in through the front door. that would be logical, right? but our new main entrance is to the side of our building, through the kitchen. so i decided to make a poster showing people exactly where to go. don't mind the fact that the arrow is really REALLY dysfunctional.
aren't my mom and my sister the cutest?
...and once again, Sindi can boast full responsibility for the amazing decoration of my cake. i baked the two layers... but they looked less than half this gorgeous before she took over, icing and melting chocolate and placing M&Ms... in rainbow order and everything. *shakes head in amazement*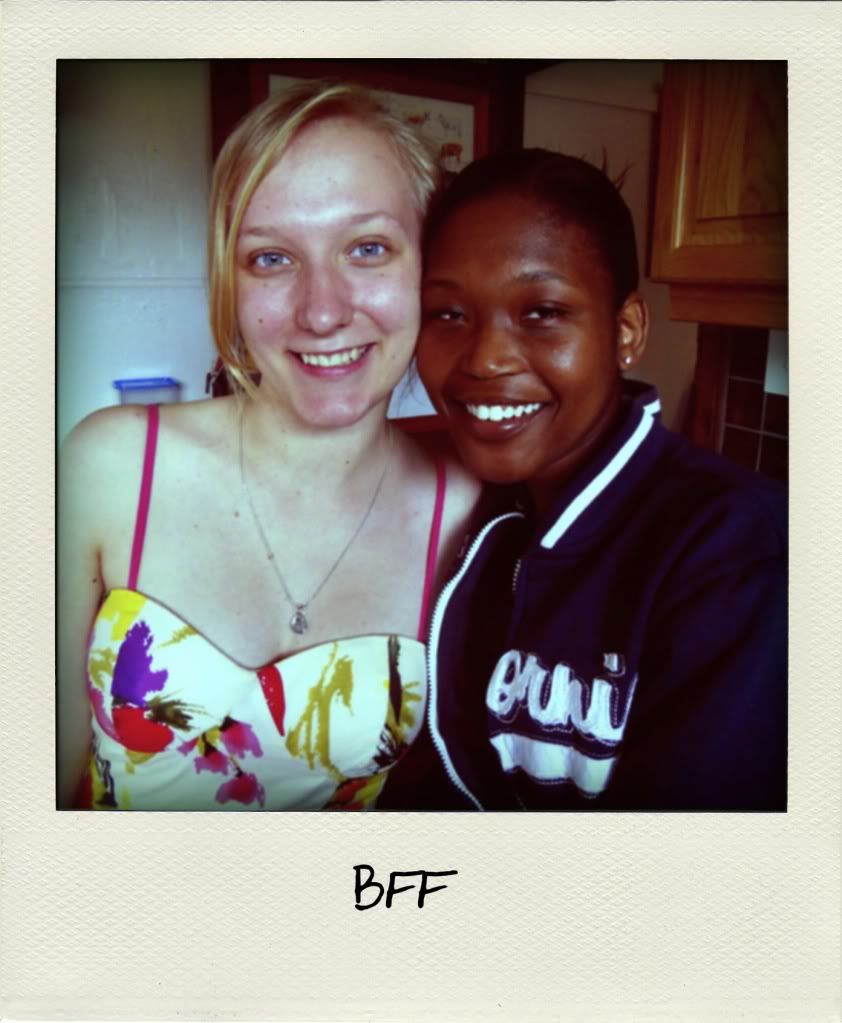 this is Mpilo (aka Lilo). we have been BFF for over five years, and i love her, and i will always love her. she brought me Lindt chocolate... and balloons. i nearly died.
remember how super-awesome those cupcakes looked up at the top of this post? betcha didn't think the candles on them were just as, if not more, legit! i'm a pyromaniac, so relighting candles are right up my alley. every time i'd blow one out only for it to relight, i would give a half-crazed giggle and grin in a neurotic way. i'm sure it was something to behold.
...just in case you were interested, this is what i wore for most of my birthday. and yes, that's my
floral fiesta dress
! it's happifying, isn't it?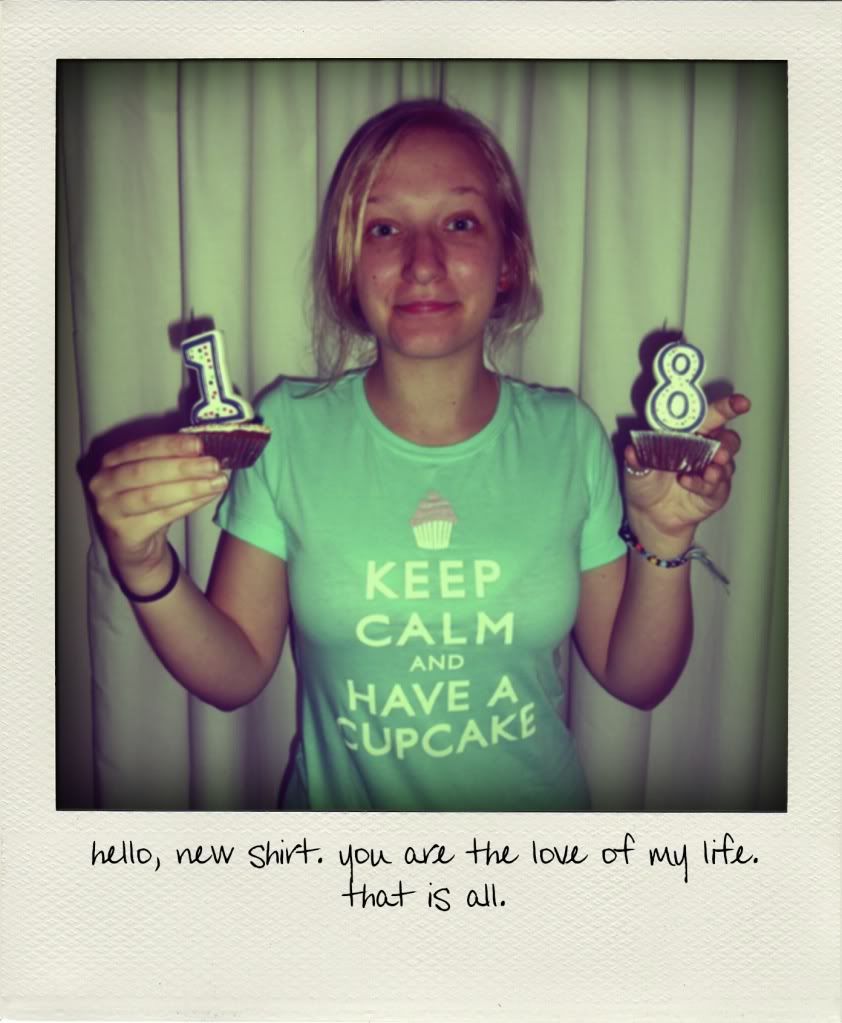 of course, i had to try on my new tee, and then i decided to pose with some cupcakes.
and then, i didn't take any more photos. but we ate ribs and chips and watched How To Train Your Dragon and i fell in love with: a) Hiccup; and b) Toothless. such a precious movie!
and that concludes my ACTUAL birthday festivities... but just you wait till you see what celebrations occurred during the weekend :) in other words -
stay tuned for episode 3!